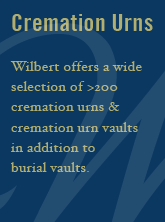 Personalization
Wilbert offers multiple ways to personalize a burial vault or urn vault with words, symbols, and images that speak of a singular spirit. Your loved one had a unique personality. The selections you make for the visitation and service should communicate that singular spirit. These choices ensure your loved one's memory is remembered for generations to come.
History of Bell Vault and Monument
In 1928, two brothers, Calvin and George Bell, each scraped together $500 to start a brand new type of business – the manufacturing of prefabricated concrete burial vaults. With their money, they purchased a steel form, concrete trough, and Ledyard lowering device. The Permanent Burial Vault Company was founded.
In 1935, the brothers parted ways with Calvin buying out his brother and staying in Miamisburg, Ohio. That same year, in the midst of the depression, Calvin Bell built a new building and added
monuments
to his product offerings. Soon after, he changed the name of the business to Bell Vault & Monument Works.
The company grew steadily through the final years of the depression and the war years of the early 1940's. By the early fifties, Calvin was ready to change his strategy. On June 15th, 1950, a license to manufacture
Wilbert burial vaults
was purchased. In that year 835 burial vaults were sold.
In the late 1950's, Calvin's son, Robert (Bob), joined his father and brother, Gary, in the family business. A few years later, his younger brother, John, joined the Bell Vault & Monument Works as well. Bob quickly established himself as the heir apparent of the company by focusing on the monuments as well as taking a personal interest in the Wilbert organization. In 1967, Wilbert patented the first plastic lined burial vault which Bell Vault & Monument Works immediately began manufacturing. In 1971, Calvin retired, leaving Bob as the President of the thriving company.
Bob had worked hard to gain the loyalty and respect of the local funeral directors. In the early 1980's, he bought out both brothers and was looking for a retirement plan of his own. This came in the form of his two sons, Greg and Tim.
Tim focused on manufacturing while Greg set his mind on sales. Their successes allowed them to purchase Penn Vault Company in Milford, Ohio in 1985. They moved its operations to Fayetteville, Ohio while maintaining the headquarters in Miamisburg. Soon after, in 1995, Tim and Greg purchased the Lima Burial Vault Company in Lima, Ohio.
In 1983, Bob Bell noticed a growing trend in cremation and started a crematory service in their Miamisburg location.
The company now has the ability to also cremate pets for grieving families under the name Cherished Pets Cremation Service, which started in 1999.
In 2005, Greg and Tim Bell sought a change of scenery in their lives and looked to sell Bell Vault to someone who would know how to run such a historical business in a committed manner. After a few offers were made, they decided to trust their company to the hands of a family from nearby Cincinnati.
In June of 2006, Tim & Greg Bell sold Bell Vault & Monument Works to Holly Baxter Bridgers, Darren Baxter, and Trevor Baxter.
These three siblings grew up in the industry themselves. In addition, Holly, Darren, and Trevor also own
Baxter Burial Vault Service
, a burial vault company and crematory operating in the St. Bernard area of Cincinnati, Ohio. It was started by their grandfather in 1924 near historic Spring Grove cemetery and was later run by their father.
Bell Vault & Monument still maintains all employees who previously worked for the company, including some who have been there for more than 25 years.
Find more photos on our
Facebook
page.
Bell Vault & Monument Hours & Directions
1019 South Main Street • Miamisburg OH 45342
Phone: (937) 866.2444 •
Email Us
From I-75, take exit 44, OH-725 (Centerville/Miamisburg).
Turn West on OH-725. Follow for about 3.5 miles.
Turn South (left) on Main St.
Follow for almost 1 mile.
Bell Vault & Monument Co. is on the right.