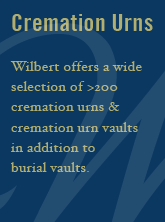 Personalization
Wilbert offers multiple ways to personalize a burial vault or urn vault with words, symbols, and images that speak of a singular spirit. Your loved one had a unique personality. The selections you make for the visitation and service should communicate that singular spirit. These choices ensure your loved one's memory is remembered for generations to come.
In addition to monuments, burial vaults, human cremation and cremation urns, Bell Vault and Monument Co. is a key partner to many veterinarians in the Greater Cincinnati and Dayton, OH area, including Northern Kentucky and Southeast Indiana with pet cremation. As the local licensee of Paws & Remember pet cremation and pet remembrance company, we strive to provide grieving families with the support they need after the loss of a pet.

We understand that the devotion and unconditional love of a pet are among the best things one can experience in life. We help pet owners cope with the loss of a pet by offering pet cremation service and remembrance products and urns to honor your pet in an appropriate, meaningful way. By honoring and celebrating all that was good about life with your pet, you'll take its spirit with you wherever you go. When you choose Paws & Remember pet cremation services, you can rest easy knowing that your pet was handled in the most caring and professional manner.
Brian Davis
Director of Pet Services

We provide pet owners with pet memorialization products and services, as well as respectful and timely coordination of pet remains including handling and cremation services. Paws & Remember ensures that your pet is carefully handled and returned in the urn you selected. From the time of death, all the way through the return of the remains, your pet is in good hands.

In addition to pet cremation, we offer tips on dealing with the loss of your pet, and talking to children about the loss of their pet.

You may purchase Paws and Remember pet cremation products through our local Paws and Remember franchise in Miamisburg, OH, participating area veterinarians, or participating funeral homes.
Contact us for more information or to purchase Paws and Remember pet cremation products and services.
Paws and Remember Pet Cremation Team